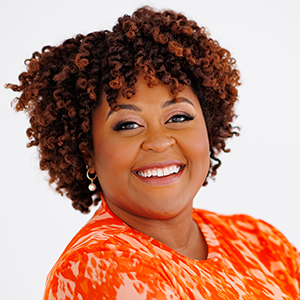 Shemeka Thorpe, PhD (she/her)
Session: Whipple Plenary – Listen to Black Women: The Power of Black Women's Collective Sexual Wisdom
Dr. Shemeka Thorpe is an award-winning sexuality educator, researcher, and international speaker. Her research focuses on the sexual well-being of Black women using sex-positive and pleasure-centered frameworks. Dr. Thorpe is an Assistant Professor in Health Promotion at the Univeristy of Kentucky. She holds two degrees from the University of North Carolina at Greensboro—a Bachelor's in Human Development and Family Studies and a Doctorate in Community Health Education— and a Masters degree in Family and Child Sciences from Florida State University.
Dr. Thorpe has published over 40 peer-reviewed articles in journals in the field of sexology, psychology, and public health. In 2022, she was awarded the Health Equity Changemaker award from the University of Kentucky's Center for Health Equity Transformation. In 2022, she was listed by Buzzfeed as one of the top 20 Black sexologists you should follow. She has been featured on numerous podcasts as well as online magazines and blogs such as Cosmo, Elite Daily, and Flare. Her most recent research projects have focused on Black women's experiences of sexual pain, sexual pain communication, sexual anxiety, multigenerational genital hygiene messages, and the impact of psychological distress and racial stressors on Black women's sexual functioning.
Dr. Thorpe aims to make research relevant to Black communities by translating sex science in meaningful and tangible ways.