Plenary Sessions
AASECT Annual Conference | San Francisco, CA | June 7-11, 2023
Checkout the lineup of in-person plenary sessions below plus the virtual offering on Friday, June 9! Stay tuned for additional plenary details.
Thursday, June 8, 2023
The following is displayed in Pacific Time.
Session Description
Black feminism was created to uplift, empower, and center the voices of Black women by using their experiences to make meaning and create knowledge. Yet, so often Black women's voices and stories regarding their sexual wellness and lived sexual experiences are silenced both within practice and community. This plenary will explore the ways in which Black women's collective sexual wisdom is represented in sex research, while also providing implications for sexuality professionals that centers the voices of Black women.
Meet Your Instructor
Shemeka Thorpe, PhD (she/her)
Dr. Shemeka Thorpe is an award-winning sexuality educator, researcher, and international speaker. Her research focuses on the sexual well-being of Black women using sex-positive and pleasure-centered frameworks. Dr. Thorpe is an Assistant Professor in Health Promotion at the Univeristy of Kentucky. She holds two degrees from the University of North Carolina at Greensboro—a Bachelor's in Human Development and Family Studies and a Doctorate in Community Health Education— and a Masters degree in Family and Child Sciences from Florida State University.
Dr. Thorpe has published over 40 peer-reviewed articles in journals in the field of sexology, psychology, and public health. In 2022, she was awarded the Health Equity Changemaker award from the University of Kentucky's Center for Health Equity Transformation. In 2022, she was listed by Buzzfeed as one of the top 20 Black sexologists you should follow. She has been featured on numerous podcasts as well as online magazines and blogs such as Cosmo, Elite Daily, and Flare. Her most recent research projects have focused on Black women's experiences of sexual pain, sexual pain communication, sexual anxiety, multigenerational genital hygiene messages, and the impact of psychological distress and racial stressors on Black women's sexual functioning.
Dr. Thorpe aims to make research relevant to Black communities by translating sex science in meaningful and tangible ways.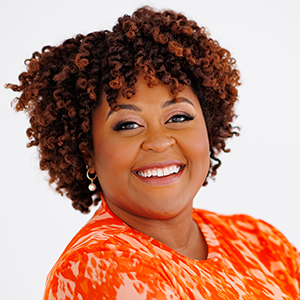 Shemeka Thorpe, PhD (she/her)
Friday, June 9, 2023
The following is displayed in Pacific Time.
Session Description & Virtual Registration
In-person Morning Mixer and Plenary Viewing
Let's catch breakfast and a movie! In-person participants will mingle at breakfast and enjoy a viewing of Resmaa Menakem's pre-recorded Schiller Plenary presentation followed by an informal discussion.
Virtual Registration
For attendees unable to join us in San Francisco, you can register for access to of Resmaa Menakem's pre-recorded Schiller Plenary presentation for $40. This recording can be watched asynchronously on your own time.
About this Session
Embodiment, Emergence, and Transformation: Harnessing the Power of Communal Connection
The field of sexuality often attracts those with a desire to effect meaningful change in their communities. But where do you stumble, where do you flourish, and where do you find yourself withdrawing when the stakes become too high? What happens when your leadership meets resistance?
In this streamed plenary session, Resmaa Menakem, a celebrated healer and author of NYT bestsellers 'My Grandmother's Hands,' 'The Quaking of America,' and 'Monsters in Love,' sits down with licensed psychotherapist Shadeen Francis for a passionate dialogue on change, community, and the potent power of sensual embodiment.
In sharing his insights into the labyrinthine nature of transformation within interpersonal relationships, Resmaa encourages sexuality professionals to see how even the most everyday situations can serve as tools that temper us for enduring change. Grounded in a profound understanding of historical context, his work explores how societal forces continue to shape our individual sense of agency over our bodies. He prompts us to pause and reflect on our personal, ancestral, and shared histories, calling for a recalibration of our focus on sensuality and body sovereignty as critical components of our journey toward healing.
This plenary session urges viewers to step out of the conventional roles of academics or leaders and to step into the positions of active, engaged community members. He contends that true transformation finds its roots in shared experiences, not solitary scholarly pursuits. The aspiration is for you to walk away from this session with a revitalized sense of inspiration and a clarified path to engage with the world, not merely to 'fix' it, but to engage with it in a spirit of playful exploration and felt sensuality, steering you towards a more authentic journey of healing.
Meet Your Instructor
Resmaa, Menakem, MSW, LICSW, SEP, Resmaa is a healer, therapist and NYTimes bestselling author of My Grandmother's Hands, the highly acclaimed The Quaking of America, and more recently – Monsters in Love, has served as director of counseling services for the Tubman Family Alliance; as behavioral health director for African American Family Services in Minneapolis; as a domestic violence counselor for Wilder Foundation; as a certified Military and Family Life Consultant for the U.S. Armed Forces; as a trauma consultant for the Minneapolis Public Schools; and as a Cultural Somatics consultant for the Minneapolis Police Department.
As a Community Care Counselor, he managed the wellness and counseling services for civilians on fifty-three US military bases in Afghanistan. Resmaa studied and trained at Peter Levine's Somatic Experiencing Trauma Institute, as well as with Dr. David Schnarch (author of the bestselling Passionate Marriage). He currently teaches workshops on Cultural Somatics for audiences of African Americans, European Americans, and police officers. He is also a therapist in private practice.
Session Description
Settler-colonial states like Canada and the US have forged their societies and governance systems with theories of what is "natural," and center ideas of private property while doing so. These two concepts have been especially violent toward first peoples of the Americas, peoples of African descent, women, children, the differently abled, and queer people. What is deemed to be "natural" and who gets to control that aims to keep often straight, white, property-owning men on top. Nature and property are key to settler society's ideas and regulation of sex. In this talk, Dr. Kim TallBear explains how the very notion of "sexuality" (like "nature") makes networks of relations into controllable objects. She draws on Critical Indigenous and sexuality studies frameworks to offer alternatives to making intimate relations into "things," thus paradoxically also de-centering "sex" as a special (although for many of us, enjoyable).
Meet Your Instructor
Dr. Kim Tallbear
Kim TallBear (Sisseton-Wahpeton Oyate) (she/her) is Professor and Canada Research Chair in Indigenous Peoples, Technoscience, and Society, Faculty of Native Studies, University of Alberta. She is the author of Native American DNA: Tribal Belonging and the False Promise of Genetic Science. In addition to studying genome science disruptions to Indigenous self-definitions, Dr. TallBear studies colonial disruptions to Indigenous sexual relations. She is a regular panelist on the weekly podcast, Media Indigena. You can follow her research group at https://indigenoussts.com/. She tweets @KimTallBear. You can also follow her monthly posts on her Substack newsletter, Unsettle: Indigenous affairs, cultural politics & (de)colonization.
Saturday, June 10, 2023
The following is displayed in Pacific Time.
Session Description
This is an un-plenary experience focused on oral narratives, storytelling, and the radical belief we all deserve liberation and freedom. Focusing on reproductive justice and revolutionary love as guiding frameworks, participants are encouraged to create a practice of care, love, and self-preservation before attending the plenary to reflect upon.
Meet Your Instructor
Bianca I Laureano, PhD, MA, CSE, CSES  Dr / she / Ella
Bianca I Laureano is an award-winning educator, curriculum writer, and sexologist. She is a founding member of the Women of Color Sexual Health Network (WOCSHN) and ANTE UP! a virtual freedom school offering professional development training and certification. She has written several curricula and the sexual and reproductive justice discussion guide for the NYC Department of Health published in 2018 and led the curriculum development for the Netflix film Crip Camp and the PBS documentary I Didn't See You There, which are rooted in disability justice principles. She is an AASECT certified sexuality educator and supervisor and in May 2020 was awarded an honorary doctorate from the California Institute for Integral Studies for her work in expanding the US sexuality field. She is the editor of The People's Book of Human Sexuality: Expanding the Sexology Archive available July 2023 (and for pre-order at the Routledge vendor booth if they do have a booth at the conference!)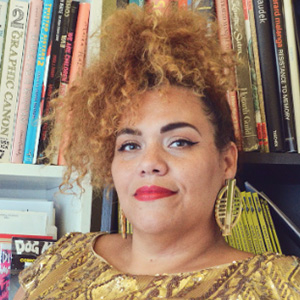 Bianca I Laureano, PhD, MA, CSE, CSES (Dr/she/Ella)
Session Description
As we are in the 4th year of a global pandemic, disabled and chronically ill individuals are once again left behind, told that our health, wellbeing, and ability to engage with society at large don't matter. Whether we are isolated in our homes, lying abed in hospitals or other institutions, or trying to navigate a world that chooses ableism over inclusion, we are still here and are not going anywhere. Historically, disabled people have been incredibly creative and scrappy in getting our needs met, including using mutual aid, creating care collectives, and centering our pleasure, despite the rhetoric that disabled people do not have sexualities or deserve pleasurable interactions. Grounded in disability justice and anti-oppressive praxis, this talk is an invitation to sexuality professionals everywhere to crip their practice and center disability inclusion and affirmation as we dream and co-create pleasurable disabled futures.
Meet Your Instructor
Shanna K. Kattari, PhD, MEd, CSE, ACS  (they/them/ theirs)
More coming soon.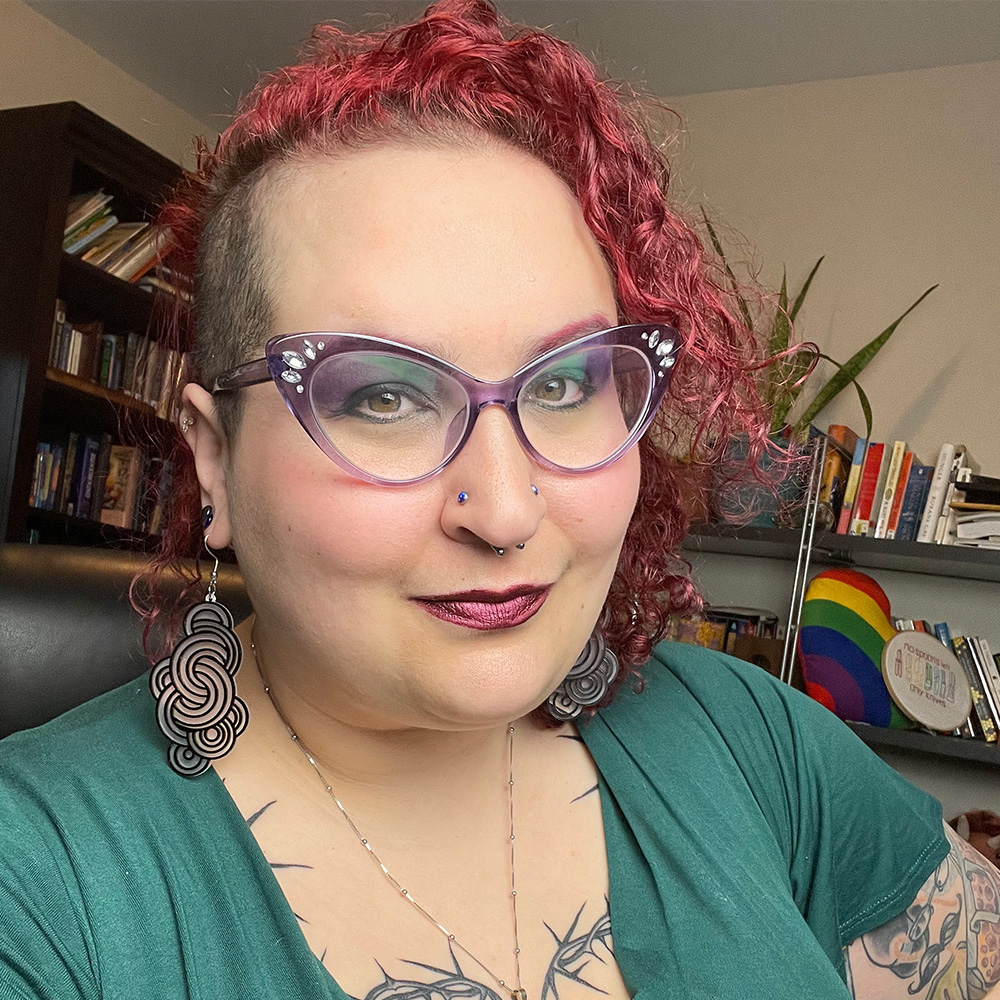 Shanna K. Kattari, PhD, MEd, CSE, ACS (they/them/ theirs)