Plenary Sessions
AASECT Annual Conference | San Francisco, CA | June 7-11, 2023
Checkout the lineup of in-person plenary sessions below plus the virtual offering on Friday, June 9! Stay tuned for additional plenary details.
Be Part of the AASECT Annual Conference
Thursday, June 8, 2023
The following is displayed in Pacific Time.
Session Description
Black feminism was created to uplift, empower, and center the voices of Black women by using their experiences to make meaning and create knowledge. Yet, so often Black women's voices and stories regarding their sexual wellness and lived sexual experiences are silenced both within practice and community. This plenary will explore the ways in which Black women's collective sexual wisdom is represented in sex research, while also providing implications for sexuality professionals that centers the voices of Black women.
Meet Your Instructor
Shemeka Thorpe, PhD (she/her)
Dr. Shemeka Thorpe is an award-winning sexuality educator, researcher, and international speaker. Her research focuses on the sexual well-being of Black women using sex-positive and pleasure-centered frameworks. Dr. Thorpe is an Assistant Professor in Health Promotion at the Univeristy of Kentucky. She holds two degrees from the University of North Carolina at Greensboro—a Bachelor's in Human Development and Family Studies and a Doctorate in Community Health Education— and a Masters degree in Family and Child Sciences from Florida State University.
Dr. Thorpe has published over 40 peer-reviewed articles in journals in the field of sexology, psychology, and public health. In 2022, she was awarded the Health Equity Changemaker award from the University of Kentucky's Center for Health Equity Transformation. In 2022, she was listed by Buzzfeed as one of the top 20 Black sexologists you should follow. She has been featured on numerous podcasts as well as online magazines and blogs such as Cosmo, Elite Daily, and Flare. Her most recent research projects have focused on Black women's experiences of sexual pain, sexual pain communication, sexual anxiety, multigenerational genital hygiene messages, and the impact of psychological distress and racial stressors on Black women's sexual functioning.
Dr. Thorpe aims to make research relevant to Black communities by translating sex science in meaningful and tangible ways.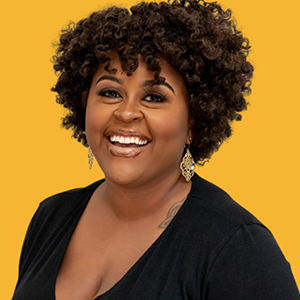 Shemeka Thorpe, PhD (she/her)
Friday, June 9, 2023
The following is displayed in Pacific Time.
Session Description & Virtual Registration
In-person Morning Mixer and Plenary Viewing
Let's catch breakfast and a movie! In-person participants will mingle at breakfast and enjoy a viewing of Resmaa Menakem's pre-recorded Schiller Plenary presentation followed by an informal discussion.
Virtual Registration
For attendees unable to join us in San Francisco, you can register for access to of Resmaa Menakem's pre-recorded Schiller Plenary presentation for $40. This recording can be watched asynchronously on your own time.
Additional details about this session coming soon!
Meet Your Instructor
Resmaa, Menakem, MSW, LICSW, SEP, Resmaa is a healer, therapist and NYTimes bestselling author of My Grandmother's Hands, the highly acclaimed The Quaking of America, and more recently – Monsters in Love, has served as director of counseling services for the Tubman Family Alliance; as behavioral health director for African American Family Services in Minneapolis; as a domestic violence counselor for Wilder Foundation; as a certified Military and Family Life Consultant for the U.S. Armed Forces; as a trauma consultant for the Minneapolis Public Schools; and as a Cultural Somatics consultant for the Minneapolis Police Department.
As a Community Care Counselor, he managed the wellness and counseling services for civilians on fifty-three US military bases in Afghanistan. Resmaa studied and trained at Peter Levine's Somatic Experiencing Trauma Institute, as well as with Dr. David Schnarch (author of the bestselling Passionate Marriage). He currently teaches workshops on Cultural Somatics for audiences of African Americans, European Americans, and police officers. He is also a therapist in private practice.
Saturday, June 10, 2023
The following is displayed in Pacific Time.
Meet Your Instructor
Bianca I Laureano, PhD, MA, CSE, CSES  Dr / she / Ella
Bianca is a tall fat light skinned disabled queer AfraLatina who is in a gold dress with gold beaded geometric designs with a smile on her face and looking at the camera. Her hair is up and her blondish-brown curls cascade around her head. She has on red lipstick and large round gold earrings. She stands in front of a full bookcase.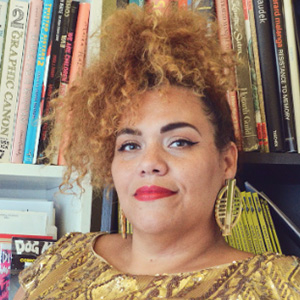 Bianca I Laureano, PhD, MA, CSE, CSES (Dr/she/Ella)