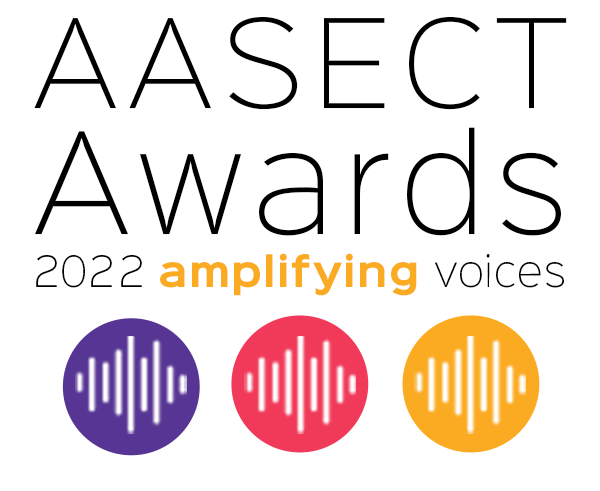 The AASECT Awards Committee is delighted to continue the work of honoring our community members who are creating, reimagining, and offering amazing resources, care, and texts. We were pleased to expand award categories this year to celebrate the range of work sexuality professionals are creating!
Thank you to everyone who submitted nominations and congratulations to the 2021 AASECT Awards Winners!
Meet the 2021 Award Winners
AASECT Live Web Series Award
Devi Ward Erickson
AASECT Book Award
The Leather Couch: Clinical Practice with Kinky Clients by Stefani Goerlich
AASECT Book Award for Sexuality Professionals – audience focus
Principles and Practice of Sex Therapy by Kathryn Hall & Irv Binik
AASECT Book Award for General Audience – audience focus
The Consent Guidebook by Erin Tillman
AASECT Podcast Award
American Sex with Sunny Megatron and Ken Melvoin-Berg
AASECT Book Award for Children under 18 years old – audience focus
The Every Body Book: The LGBTQ+ Inclusive Guide for Kids About Sex, Gender, Bodies & Families by Rachel Simon
Humanitarian Award
Natasha Singh
AASECT Audiovisual and Film Award
CURED by Patrick Sammon & Bennett Singer
AASECT Award for Diversity, Equity, and Inclusion
Nick Marzo and Donna Oriowo, PhD, M.Ed, MSW, CST
Professional Standard of Excellence Award
Sara Nasserzadeh, MSc, PhD, DipPST, CSC
AASECT Award for Emergent Professional – AKA the Rising Star Award
Melvin Lee Phillips, Jr., Ed.D., LICSW, LCSW-C, LCSW, CST 
AASECT Sexuality Educator Award
Clarissa 'Serenity' Francis, MA, CSE 
AASECT Award for Integrative Approaches to Sex Therapy
Renee Burwell, LCSW, CST
Distinguished Service to AASECT Award
Susan Stiritz, MBA, MSW, PhD, CSE, CSES
Awards Committee
Thanks to this community of dedicated volunteers!
Awards Chair

: Bianca I Laureano, PhD, MA, CSES (she/her/Dr)  

Melissa Boll, CNM, CSC (she/her) 

Mariotta Gary-Smith, MPH, CSE (she/her)

Kristen Lilla, LCSW, CST, CSTS, CSE, CSES (she/her they/them)

Alexandra Meadows (she/her)

Anne Mauro, DHS, MA, LMFT, CSE, CST (she/her) 

Tamara Pincus, MA, CST, CSTS (she/her)

Samuel Sanabria, PhD, CST

Jadelynn St Dre, MA, LMFT (she/her)

Chris Fariello, PhD, LMFT, MA, CST 
About the Awards
AASECT Book Award

(published in 2020)
This award is presented to the author(s) of a book that makes a significant contribution to our understanding of human sexuality. The nominated book can be written for a professional audience of any field of focus and must have been published in 2020. Please include the contact information for the author(s) and publisher and a brief description of why the book is worthy of the award. This award is open to all. #SexBookAward #SexualityBoodAward
AASECT Book Award for Children under 18 years old

(audience focus)
This award is presented to the author(s) of a book that makes a significant contribution to AASECT's vision of sexual wellbeing and education, specifically as it applies to children and adolescents, and which elevates the standards of the field. The nominated book must be intended for an audience under the age of 18 and have been published in 2020. Please include the contact information for the author(s) and publisher and a brief description of why the book is worthy of the award. This award is open to all. #SexEdBookYouth
AASECT Book Award for Sexuality Professionals
(audience focus)
This award is presented to the author(s) of a book that makes a significant contribution to the field of clinical sexology, sexual health, and/or sexuality education. The nominated book must be written for a sexuality professional audience and must have been published in 2020. Please include the contact information for the author(s) and publisher and a brief description of why the book is worthy of the award. This award is open to all. #SexBookAward
AASECT Book Award for General Audience
(audience focus)
This award is presented to the author(s) of a book that makes a significant contribution to the general public's knowledge of sexuality. The nominated book must be written for a general audience and must have been published from 2017 – 2020. Please include the contact information for the author(s) and publisher and a brief description of why the book is worthy of the award. This award is open to all. #SexBookAward
AASECT Live Web Series Award

(YouTube, Instagram, etc.)
This award is for the producer(s) of a web series (YouTube, Instagram, Facebook Live, etc.) that makes a significant contribution to increasing sex-positive online content and information. The nominated web series can be developed for a professional audience or for a general audience and must have been produced in 2020. To nominate a web series send at least three (3)  links for a review to the committee members along with contact information for the producer and/or creators. Include a brief description of why the web series is worthy of the award. Please make sure that the committee can access and view the entire episodes suggested. This award is open to all. #SexSeriesAward   #StreamingSexAward   #AASECTWebAward  #SexWebAward
AASECT Podcast Award
This award is for the creators of a Podcast that makes a significant contribution to AASECT's vision of sexual wellbeing, education, and which elevates the standards of the field. The nominated Podcast can be developed for a professional or general audience and must have been produced in 2020. To nominate a Podcast send at least three and no more than five linked episodes for review to the committee members along with contact information for the producer and/or creators. Include a brief justification of your nomination, at no more than 250 words. Please make sure that the committee can access and view the episodes suggested, or the nomination will not be considered. This award is open to all. #SexPodcastAward  #AASECTPodcastAward
AASECT Audiovisual Award  
This award is for the producer(s) of a film, video, DVD, or live theater production that makes a significant contribution to AASECT's vision of sexual health and to the clinical and educational standards of the field. The nominated audiovisual can be developed for a professional audience or for a general audience and must have been produced in 2020. To nominate, send contact information, a review copy link, and contact information for both the producer and distributor. Include a brief description of why the audiovisual is worthy of the award. Please make sure that the committee can access and view the entire production. This award is open to all. #SexFilmAward  #AASECTFilmAward
Sexuality Educator Award  
This award is presented to a current AASECT Certified sexuality educator. This award recognizes individuals who have made long-standing contributions, outstanding achievements, or otherwise had a major impact in one or more areas of sexuality education. These areas of impact may include, but are not limited to, teaching in the community, teaching in higher education, raising public awareness of sexual issues, or public advocacy/lobbying policy-makers. The nominee should have 1 letter of support, no more than 500 words, from individuals familiar with their work. #SexEdAward
Integrative Approaches to Sex Therapy Award
This award is for creative applications of an integrative and interactive approach to sexual issues in clinical work with individuals, couples, groups, and/or supervisees of all ages, genders, and other diversities. This award may be considered for any practical or theoretical body of work, including (but not limited to) trainings, retreats, online courses, videos, or a published paper or book. Nominees must be AASECT Certified sex therapists or sexuality counselors who have demonstrated a clinical consciousness that is multidimensional: inclusive of some combination of physical, emotional, cognitive, and/or spiritual dimensions of sexual experience, along with relational and/or social contexts. The nominee should have 1 letter of support, no more than 500 words, from individuals familiar with their work. #IntegrativeSexAward
AASECT Award for Emergent Professional
("Rising Star Award")
This award is presented to an emergent AASECT Certified educator, counselor, or therapist. This award recognizes individuals who have made contributions early in their career of being a sexuality professional. Early in career is in the first 3 years of AASECT Certification. This award may be considered for any practical or theoretical body of work, including (but not limited to) trainings, retreats, online courses, videos, or a published paper or book. The nominee should have 1 letter of support, no more than 500 words, from individuals familiar with their work. #RisingStarAward
Professional Standard of Excellence Award
Service to the field of sexuality by a professional. This award is presented to an individual who has worked extensively to represent or advance the field of human sexuality through activities including, but not limited to, the development and implementation of sexuality education curriculum; clinical programs or other original clinical contributions; scientific research; and art, print, radio, television or internet media contributions. The recipient of this Award will be an individual who is recognized by their peers as an accomplished and visionary colleague, an expert in their field, and an exemplary bearer of the standards of professional and personal ethics as well as the standard of excellence in achievement. This award is open to all. The nominee should have 1 letter of support, no more than 500 words, from individuals familiar with their work.  #ExcellenceAward #AASECTExcellence
AASECT Award for Diversity, Equity, and Inclusion
This award is presented to a current AASECT Certified educator, counselor, or therapist. This award recognizes individuals who have made contributions, outstanding achievements, or otherwise had a major impact in one or more areas of the US sexuality field in service to equity. These areas of impact may include, but are not limited to, teaching in the community, teaching in higher education, raising public awareness of sexuality issues, or public advocacy/lobbying policy-makers. The nominee should have 1 letter of support, no more than 500 words, from individuals familiar with their work. #DEIAward  #DEISexAward
Distinguished Service to AASECT Award 
This award is presented to an AASECT member in good standing who is certified in at least one area and has worked to promote the mission of AASECT, advocating for sexual health through the development and advancement of sexuality education, counseling, or therapy. This individual will have served the organization through activities including, but not limited to, recruitment of new members;  presentation of a paper or workshop at AASECT meetings; serving on the Board of Directors, a committee or task force; developing publications for or about the organization; assistance in the development of AASECT policy; and representation of AASECT in the public sector. The nominee should have 1 letter of support, no more than 500 words, from individuals familiar with their work. #DistinguishedAward
Humanitarian Award 
This award is presented to an individual or group who has contributed to the field of human sexuality through private endeavor, charitable event(s), public awareness campaign, organizing effort, sex-positive educational offering, or political platform, and who has received national and/or international recognition for their contribution. Please submit a brief justification for your nomination at no more than 500 words, in addition to relevant documentation which may include links to websites, event pages, photos, and/or video documentation. The committee will view a maximum of 5 minutes of video documentation, so please cut your media accordingly, or include a time signature to reference for longer submissions. This award is open to all. #HumanitarianAward
2020 Award Winners
Meet the previous group of inspiring AASECT Award Winners. Take me there →